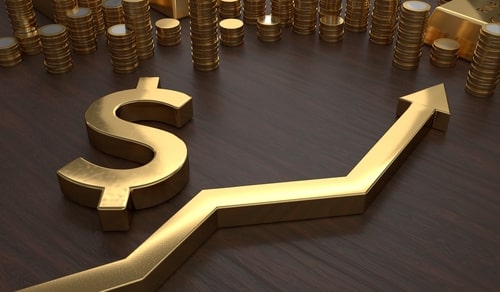 Gold at $1,800: 'There's little to stop the gold-up trajectory' — Bloomberg Intelligence
Editor's Note: Get caught up in minutes with our speedy summary of today's must-read news stories and expert opinions that moved the precious metals and financial markets. Sign up here!
(Kitco News) Gold is heading to $1,900 an ounce, and little can stop the precious metal from reaching its all-time high in U.S. dollars, according to the latest Bloomberg Intelligence's commodity outlook. 
"It's logical to expect gold to outperform most assets in an environment of unparalleled central-bank easing, and we foresee the precious metal maintaining the upper hand in most scenarios. There's little to stop the gold-up, copper-down trajectories, in place well before the coronavirus struck," wrote Bloomberg Intelligence senior commodity strategist Mike McGlone.
Slow economic recovery is going to put pressure on commodities, except for gold, which will head to its record high of $1,900 an ounce, McGlone pointed out. "Depression-like global conditions should press the BCOM below the 2016 trough and gold above its all-time high, about $1,900 an ounce," he said. 
'Gold to top Carter-era high vs. commodities'
Gold will also continue to extend its peak versus broad commodities, which was marked 40 years ago. 
"Trends in the advancing metal and declining commodity prices appear entrenched, with added momentum from the coronavirus. Our graphic depicts the sharp spike in the ratio of gold vs. the BCOM Spot Index that topped in 1980 as the Consumer Price Index (CPI) reached almost 15%," McGlone explained. 
"It took about 27 years for gold to overtake its 1980 peak as disinflation prevailed. Deflation is the signal now from broad commodities, and increasing evidence of diminishing stock-market returns from Federal Reserve easing supports gold pushing toward a sustained higher plateau," he added.
Base-building at $1,700 is important
Gold has been trading above its new base level of $1,700 an ounce since mid-April. And the longer it can stay above that level the more prepared the precious metal will be to head to higher levels. 
"Every day that passes above this level builds a firmer base for the metal to make the next move in its stair-step rally," McGlone wrote. 
In the meantime, a V-shaped recovery is looking more and more unlikely, which is boosting the case for $1,900 gold. 
"The coronavirus is creating almost perfect conditions for commodity price deflation, central-bank easing and rising gold prices … Gold stands to be a primary beneficiary," McGlone said. "Enduring U.S.-China trade tension and an unlikely V-shaped global economic recovery keep our price view as unfavorable for broad commodities and favorable for gold. We see little to prevent the metal from reaching all-time highs and the Bloomberg Commodity Spot Index from extending its 2016 low."
Overall, Bloomberg Intelligence sees gold keeping its rally on for the rest of the year. 
"Dollar-denominated gold appreciating despite the strong greenback is a sign of divergent strength in the metal … A V-shaped global economic recovery reflected by the liquidity-driven stock market is the lower-probability occurrence, in our view. Risks of an equity market rollover are elevated, which would add fuel to appreciating precious vs. depreciating industrial metals," the strategist added.
At the time of writing, August Comex gold futures were trading at $1,807.30, up 0.77% on the day.