Choquelimpie Sampling Extends Surface Gold-Silver Oxide Mineralized Zones
Vancouver, BC - TheNewswire - April 12, 2023 - Norsemont Mining Inc. (CSE:NOM) (OTC:NRRSF) (FWB:LXZ1) ("Norsemont" or the "Company") announces results of its inaugural surface outcrop geochemical sampling campaign.
Highlights:
Surface outcrop sampling results returned long intervals of significant oxide Au-Ag values, outside of and peripheral to the historical mined pits, thus extending the potential for additional near-surface heap-leachable resources. Additional mapping and sampling are planned to further define the extension of this potentially significant source of mineralisation. 

Strong geochemical anomalies for Cu, Mo and Au from the Vizcacha Porphyry sector enhance our interpretation that this newly mapped area represents the upper portions of a telescoped porphyry system. Additional mapping, geochemical sampling and geophysics will be utilized to define drill targets at Viscacha. 
Surface Outcrop Chip Channel Sampling
The initial outcrop chip and channel sampling campaign was carried out during the months of November 2021 and March 2022 with the objectives of:
Testing the extensive areas of potentially mineralised leached rock, observed in road cuts and mine benches, that were overlooked by previous operators.  

Confirming and expanding the oxide gold footprint of the Choque-Intermedio pit areas, as evidenced in drill hole MV21-009 (15 metres @ 0.84 grams per tonne Au from surface – news release March 31, 2022). 

Evaluating the new porphyry veinlet zone near the Vizcacha Pit.  
In total, 517 outcrop samples were collected in 2 metre long by 10 cm wide channel samples, each weighing between 3 to 5 kilograms. Channel samples collected in the Silica Ledge sector were 1 metre long by 10 centimetres wide. Where possible, for example, along the banks of roadcuts, sampling was continuous.
The results show:
•  Continuous and robust Au-Ag oxide mineralisation on the eastern margin of the Choque and Intermedio pit areas. Comprehensive follow-up sampling will be conducted to define the full extent of this potential near-surface mineralization. The most significant results were: 60 metres @ 0.97 grams per tonne Au and 21 grams per tonne Ag, including 2 metres @ 10.93 grams per tonne Au and 46 grams per tonne Ag.
These results confirm the presence of more widespread near-surface Au-Ag oxide mineralisation in the Choque-Intermedio pit areas.  Norsemont is currently conducting metallurgical testwork in this area, with the hope that positive results will add significant tonnages to the leachable resource.
It should be noted that such grades of near-surface oxide mineralisation are typical of many large-tonnage open-pit heap-leach mines, in contrast to the small-tonnage high-grade mine operated by the previous operators of Choquelimpie.
•  The Vizcacha Porphyry Zone returned channel sample results ranging from 0.1 - 0.4 grams per tonne Au associated with characteristic porphyry-related A-veins and black banded quartz veins, occurring as sheeted swarms and stockworks. In addition, a molybdenum anomaly related to B-veins is present (e.g. 8m @ 41 ppm Mo). This veinlet-hosted mineralization occurs in a daci-andesite porphyry, with phyllic alteration overprinted by quartz-pyrophyllite alteration and cut by structurally controlled corridors of high sulphidation mineralisation (e.g. 1 metre @ 2.14 grams per tonne Au and 361 grams per tonne Ag as well as 1 metre @ 1.48 grams per tonne Au and 170 grams per tonne Ag).
These assay results and geological interpretations, combined with the geology observed in our recent drilling of the historical pits, lead our technical team to conclude that we are situated in the mid to lower portion of a high-sulphidation epithermal system, overlying a potentially large Au-Cu-Mo porphyry intrusive target at depth.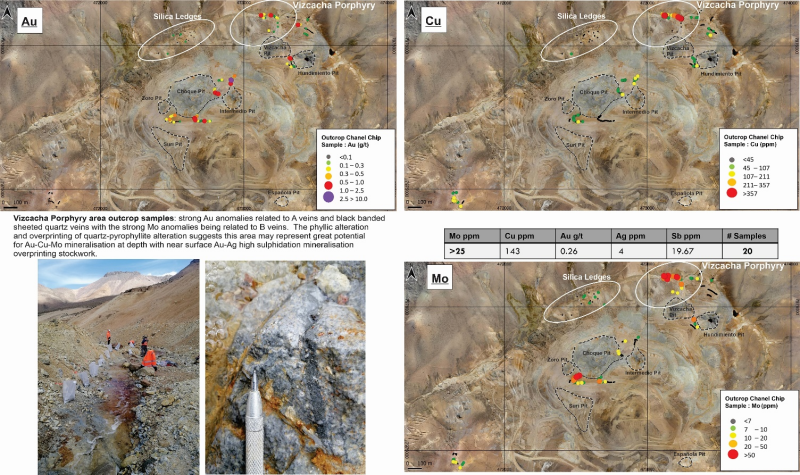 Click Image To View Full Size
Figure 1:  Surface geochemistry samples at the newly discovered Vizcacha Porphyry sector.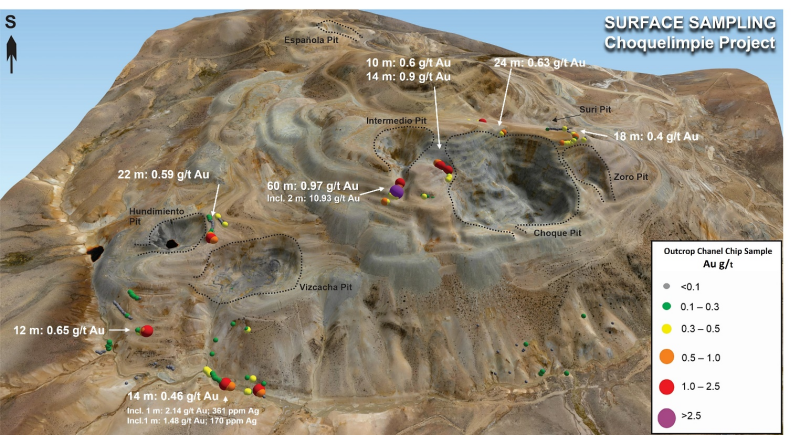 Click Image To View Full Size
Figure 2: Surface geochemistry samples taken with an oblique view looking south towards the main historically mined ore bodies.  Note the widespread intervals of surficial oxide Au-Ag mineralisation and the large areas that remain to be tested.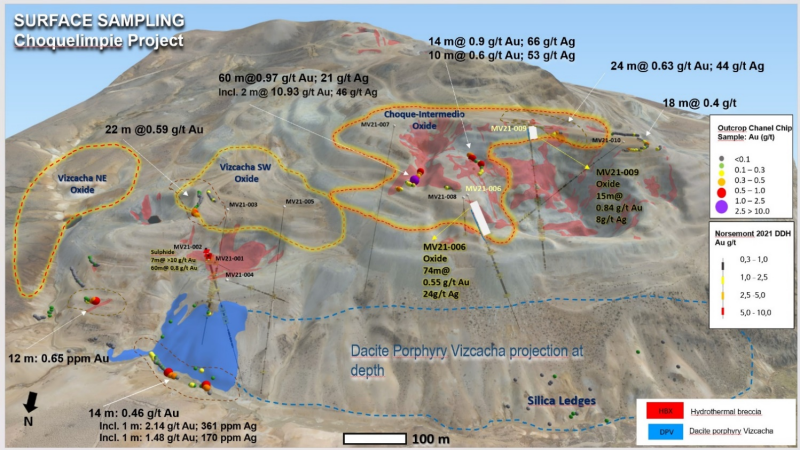 Click Image To View Full Size
Figure 3:  Surface geochemistry samples taken with an oblique view looking south with the 2021 DDH drill holes and observed/interpreted important lithologic domains.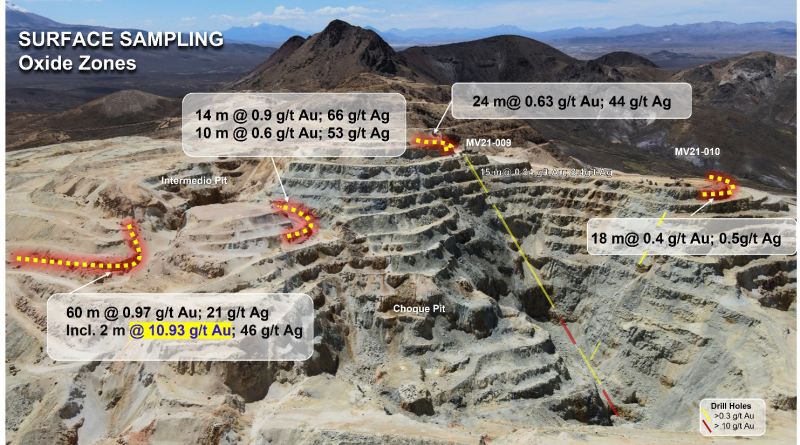 Click Image To View Full Size
Figure 4:  Surface geochemistry samples from the Choque and Intermedio pits.  Note the significant oxide Au values from prominent oxidized benches, ledges and intra-pit outcrops.
John Currie, Norsemont's VP of Exploration states: "Our initial surface sampling program at Choquelimpie was highly successful, as the results from this campaign have outlined potentially heap-leachable near-surface oxide Au-Ag mineralisation, in both the epithermal and high-level porphyry environments.  We now have a range of exciting targets that merit aggressive follow-up exploration. The near-surface oxide potential is especially exciting. With the first phase of surface chip and channel sampling now plotted, we are confident that we will be able to define a substantial volume of oxide Au-Ag mineralised rock amenable to heap leaching, to add to our already existing low-grade stockpiles.  Extensive outcrop, road-cut and soil talus geochemical sampling will be one of our priorities when we resume the field work."
Marc Levy, Norsemont's CEO comments, "These encouraging surface sampling results continue to expand the size of the mineralized gold-silver oxide footprint at Choquelimpie and highlight new areas for drill testing and resource expansion. One of our tasks will also be to chase the mineralisation intercepted in drill hole MV21-009 that returned 170.0 m grading 1.35 g/t Au and 18.3 g/t Ag (See News Release dated March 31, 2022). Finally, we are particularly excited to also test the potentially large copper-gold-molybdenum porphyry intrusive target at depth. Success in these areas would change the future of Choquelimpie."
Sampling Methodology, Chain of Custody, Quality Control and Quality Assurance:
Surface outcrop chip and channel samples of 1.0 - 2.0 metres length were collected, bagged and tagged by company staff. In a secure processing facility, Company staff inserted a series of blind blanks, certified reference materials and sample duplicates in the sample stream, as part of the Company's QA/QC protocol.  Sample bags were sealed, placed in security-sealed sacks, and then delivered by Company staff to the Andes Analytical Laboratory sample receiving facility in Arica, Chile.
All outcrop chip-channel samples reported in this news release were analysed at AAA in Santiago, Chile utilising their ICP_AES_HF38m1 analytical package. This comprises a four-acid digestion followed by a 38-element ICP-MS scan, in conjunction with the AEF_AAS_1E42 40g Fire Assay with AAS finish for gold on all samples. Samples that return values >10 ppm gold from fire assay and AAS are determined by using fire assay and a gravimetric finish (lab code AEF_GRV_1E43). Samples that return values >5,000 ppm for copper and >400 ppm silver by ICP analysis are determined by four acid digestion AAS finish assay (lab codes 4A-HF_AAS_1E13_ppm and 4A-HF_AAS_1E08_0.25-100 respectively).
The information presented in this news release was collected and prepared by SCM Vilacollo staff in accordance with Canadian regulatory requirements as set out in National Instrument 43-101.  QA/QC for the analytical results was reviewed by Mr. Enrique Grez, an independent qualified person, registration number 0015 of the Comisión Calificadora de Recursos y Reservas Mineras de Chile, and a Qualified Person as defined in National Instrument 43-101, Standards for Disclosure for Mineral Projects.
Mr. Art Freeze, P.Geo, Director of Norsemont Mining as well as a qualified person as defined by National Instrument 43-101, has supervised the preparation of the technical information in this news release.
About Norsemont Mining Inc.
Norsemont comprises experienced natural resource professionals focused on growing shareholder value and developing its flagship project through to bankable feasibility. Norsemont Mining owns a 100-per-cent interest in the Choquelimpie gold-silver-copper project in northern Chile, a previously permitted gold and silver mine. Choquelimpie has over 1,700 drill holes, with significant existing infrastructure.
On behalf of the Board of Directors,
NORSEMONT MINING INC.
Marc Levy
CEO & Chairman
For more information, please contact the Company at:
Telephone:        (604) 669-9788; Facsimile: (604) 669-9768
Forward-Looking Information
This release includes certain statements that are deemed "forward-looking statements". All statements in this release, other than statements of historical facts, that address events or developments that Norsemont expects to occur, are forward-looking statements. Forward-looking statements are statements that are not historical facts and are generally, but not always, identified by the words "expects", "plans", "anticipates", "believes", "intends", "estimates", "projects", "potential" and similar expressions, or that events or conditions "will", "would", "may", "could" or "should" occur. Although the Company believes the expectations expressed in such forward-looking statements are based on reasonable assumptions, such statements are not guarantees of future performance and actual results may differ materially from those in the forward-looking statements. Factors that could cause the actual results to differ materially from those in forward-looking statements include changes to commodity prices, mine and metallurgical recovery, operating and capital costs, foreign exchange rates, ability to obtain required permits on a timely basis, exploitation and exploration successes, continued availability of capital and financing, and general economic, market or business conditions. Investors are cautioned that any such statements are not guarantees of future performance and actual results or developments may differ materially from those projected in the forward-looking statements. Forward-looking statements are based on the beliefs, estimates and opinions of the Company's management on the date the statements are made. Except as required by applicable securities laws, the Company undertakes no obligation to update these forward-looking statements in the event that management's beliefs, estimates or opinions, or other factors, should change.
Neither the Canadian Securities Exchange nor its Regulation Services Provider (as that term is defined in the policies of the Canadian Securities Exchange) accepts responsibility for the adequacy or accuracy of this release. No stock exchange, securities commission or other regulatory authority has approved or disapproved the information contained herein.